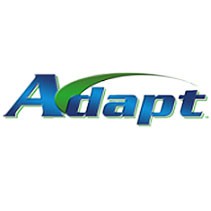 Revolutionary, On-Board Drying System

---
The ADAPT™ Drying System is a revolutionary, on-board drying system
specifically designed to interface with any pre-existing car wash equipment. Car wash owners have long been asking for a high-quality drying system that would be compatible with their existing equipment, so Oasis developed and engineered an on-board dryer for just that purpose.
With the ADAPT™ Drying System, operators are no longer limited to just a freestanding dryer. It can be integrated easily into any in-bay automatic car wash system on the market. The ADAPT™ also offers owners more control over the drying process, allowing them to offer their customers a better quality product.
---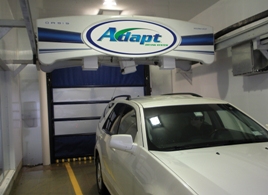 The ease of operation of this fully self-contained unit serves to enhance the overall car wash experience.
Drive into the drying bay and the system does the rest. The automated drying bay allows for two cars to be processed simultaneously, resulting in increased income for the operator.
---
BENEFITS
Compatible with any touch-free or friction in-bay car wash.
Features Variable Frequency Drive (VFD) for speed control movement
up and down the bay.
Allows operators flexibility and control over the drying process.
Results in higher throughput than standard on-board drying systems.
Programmable Logic Controller (PLC)
Controls tire shine systems.
Controls doors.
---
STANDARD FEATURES
Oasis Adapt

™

on-board dryer bridge
Electrical control panel containing PLC, contactors, overload, and low voltage circuit protection
Extended rails with wall mounting and hardware
Flexible conduit with robotic cables
ESP (Electronic Scanning & Positioning) Virtual Stop Station
LED signage.
---
OPTIONS
Oscillators
Various horsepower combination motors and fans
50 Hz or 60 Hz operation
Dryer shut-off kits
Timers
Flip nozzles
Variable Frequency Drive (VFD) for blowers
Instructional lighted signs
End-of-cycle buzzer